[en]
Hello, I have come to contribute a php that I made in 2015 for my clients but now I decided to contribute
Contains:
Number of connected users / Maximum number of users.
Today's date and The current time
Welcome message
[es]
Saludos gente, vengo a aportar este código que hice en el año 2015 para mis clientes (antes tenía otro nombre) y en el 2018 cambié la imagen del banner a esta.
Espero que lo disfruten.
Contiene:
Cantidad de conectados / Cantidad máxima de jugadores
Fecha y hora actual
Mensaje de bienvenida (Bienvenido: $nickname).
Como usar el php / Example of the php:
Link de descarga / Download Link:
https://github.com/JoaquoCL/Banner-Automatizado
Pre-Requisitos / Prerequisites:
ts3admin.class.php
ts3phpframework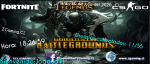 Last edited: