Server admin power 100 bugs
I did the test without server
1.4.22 stable
1.5.6 stable
I tested it on a clean install
the server admin simply manages to break power 100 and swap banner slots.
Even if I enter with server query, I can't lock the permission.
It only works again if I import and export the permissions using yatqa
I'll send an example in the photo of how I can fix the problem.
The problem is that if someone resets through the site, the problem would simply return.
I don't know if this is general what's happening, so I'm warning you, could anyone try and see what happens?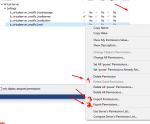 ---- Automatically Merged Double Post ----
View attachment 3875
Last edited: