I have an error message again. I want to restore a snapshot to YaTQA. That does not work it comes the following error message: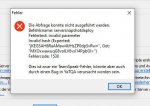 Where can this be located would be happy to help you again.
habe wieder eine Fehlermeldung. Ich möchte bei YaTQA ein Schnappschuss wieder herstellen. Das geht nicht es kommt folgende Fehlermeldung: Siehe Bild
Wo ran kann das liegen würde mich über hilfe von euch wieder freuen.
Lg
TheMuffel