hi, im talking about something complicated
its like this
someone run a teaspeak server with specific query port.
and he can run many servers and manage them with yatqa..., So far it was normal and everyone can do it
But here is the story
each server , has a specific query port(Unique for each server), username(its serveradmin for all servers) and password(Unique for each server) for query login.
and users can easily login and manage theyr servers.
how its possible?
i make this photo
To understand better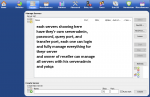 in normal, you can run many servers and give them to people but you can give them query login becuase they can manage other servers, but that server i saw, everyone can login to query
its so strange and interesting
you can manage all server in one yatqa, and each server have unique and specific information too
whats your idea, someone made it so its possible