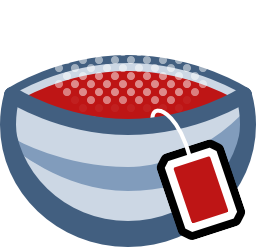 TeaSpeak Team
Staff member
Administrator
Hey,
I have great news again!
TeaSpeak is now getting bigger and bigger and I love to see that my software makes you happy.
Well but there's still one thing I noticed within the past few months.
I started implementing a lot of new features and administration possibilities for server owners, but most of you don't have the ability to use them because general and normal tools do not support them.
Some time ago I actually arranged a new partnership with
Tea*Speak-interface
a Tea(m)Speak Web-Interface specially adjusted and specified for TeaSpeak, which will fit in all your new needs. This small project is made out of love and within personal free time and like TeaSpeak the number one priority there is also to give an incredible experience to the user
Well, you may already notice that I'm enthused by this project, but what does it really can?
I'm not a fan of just a listing of features but I don't have other opportunities, else this thread will be far too long.
Powerful role and rights system
Control the TeaSpeak music bot
Extensive user management
Extensions and update management
Administration of acquired licenses
Access, error, and cronjob logs
Implementation of individual styles
Manage server instances
Manage associated voice server
Templates for creating voice servers
Manage channels and clients
Detailed instance and server statistics
Server, channel and client chat
Server Interface & TS Explorer
Snapshot management incl. import
Cronjobs via Ajax, Webcron or Crontab
Extensive security features
Multilingual - German and English
Much much much more... (click here for more details)
If you're interested within the web interface you have a 30-day trial where you can check out everything, migrate your server or explore all these different futures.
There is also an online test web panel where you can check out the compatibility to the TeaSpeak server:
URL:
https://demo.Tea*Speak-interface.de/index.php
Username: Tester
Password: demo2018
If you're connived to buy that and you already bought a premium membership as well you'll get a little bit off:
- For everyone who bought the 3-month membership 10%
- For everyone who bought the 6-month membership 15%
- For everyone who bought the 1-year membership 20%
You could request the discount codes without your license request thread!
And of cause feel free to share your experience with the Tea(m)Speak Web-Interface
Best regards
WolverinDEV ~Markus
Last edited: