Fanatic member
Premium User
Hello,
Until now I had no problem with the teaspeak version.
But this morning I updated the server with the latest version: 1.2.22-beta.
The intance still works, but after 10/15 min, the intance no longer responds to the query.
Error (ID 0) connection to server 'IP
ORT' lost on IP: IP
ORT
Same via putty
I have to restart the instance to respond again.
Here I wanted to put the previous version, but unfortunately I forget to make a backup of the mysql, and now I have an error and the server does not start anymore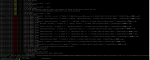 And now same for put last version